THE SHORT VERSION
Swallow Creek Productions is an award-winning video production company that handles all aspects of story telling – from shooting, scripting, and editing, to delivery by DVD, YouTube, or other format.
Founded in 1999 by Avianna Jones at the beginning of the "DV Revolution," Swallow Creek Productions was quick to embrace the new digital technology introduced at that time – including Apple's Final Cut Pro v.1 and affordable broadcast-quality Sony cameras.
This "revolution" placed the most powerful medium on the planet in the hands of those with stories to tell, and Swallow Creek had stories to tell!
NATURE AND WILDLIFE
The passion that fueled the company at that time was the desire to create compelling projects that would raise awareness about environmental issues, with the dream of making a difference in the survival of endangered species. From the beginning, the mission was clear:
The mission of Swallow Creek Productions is to honor the Wild Things and those who care for them …
OTHER "WILD THINGS" –  PASSIONATE PEOPLE
Over the years, Swallow Creek's mission has expanded to include the documentation of "Wild Things" of all kinds, including artists and musicians with important missions of their own, and the retelling of historical events.
… and to tell the stories of passionate people and organizations with compelling missions of their own …
WEBSITES AND CONTENT CREATION
Today, everyone needs a website that best represents their unique talents and aspirations to the online world we live in.  Swallow Creek Productions now develops Wordpress websites that honor the unique purposes of individuals and organizations and creates content for existing websites.
… and to share their passion with the world by creating effective websites.

It's a great time to be on the planet if you have a story to tell!
THE LONG VERSION
THE FIRST CAREER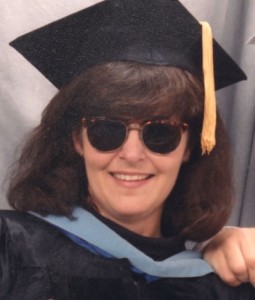 Ph.D. • Counseling Psychology (Minor: Statistics and Research Design) • 1978 • University of Iowa Experience: Direct service, university teaching, academic administration, curriculum development …
Here's my resume and includes both careers … Avianna Jones Resume 2014
Full disclosure about the photo – I didn't attend my Ph.D. graduation in 1978. This was in 1998 with my son for  his high school graduation fun photos with borrowed cap and gown.
THE VOICE
Words to live by –
"Follow your bliss" – Joseph Campbell
In 1998, my professional life as an academic administrator was not blissful.  It was satisfying, but not blissful. So I started asking what I wanted to do with the rest of my life.  And then I heard the voice.  It said,
I want to use the most powerful medium on the planet to make videos about endangered species and make a difference in the world
Wow.  That was pretty clear.  And it sounded like a perfect thing to do. Of course, I didn't have a camera and I didn't know how to edit, but I wasn't worried.  Somehow it would all come together.  And it did.
STARTING SWALLOW CREEK PRODUCTIONS
My first production was inspired by a need to make a difference for the cliff swallows of the Capistrano Valley.  They were no longer nesting at Mission San Juan Capistrano and had relocated to Saddleback Community College, just a few miles away from the Mission.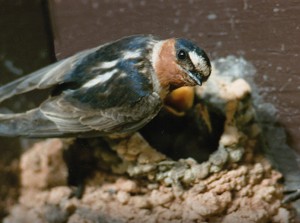 The swallows were not welcome at the college. The administration made several efforts to deter the swallows – and some of their strategies proved fatal for the swallows.
In 1999, I enrolled in an Environmental Studies class.  It occurred to me that if people could only appreciate the beauty and industriousness of the swallows, they would be less inclined to want to harm them. So I decided to produce a short video on the swallows for my class project.  I wanted to show it to other students, faculty members, and ultimately to the administration, hoping to "teach tolerance."
I thought I would start the video with some footage of the Swallows Day celebration at the mission, just to make it more interesting. At the time, I had an ancient video camera that I used to document my son's high school marching band field shows –  and I didn't know the first thing about editing –  but I somehow knew it would all come together …
A great plan came to me:  The college had great video equipment.  Ask a student in the video production department to participate, and I wouldn't have to buy a new camera. (Bonus!)  
I found a video production student to work with.  All was well. Our first location scouting was planned for the Mission about a week before Swallows Day. We were to meet there and figure out what we were going to do.  (Always a good idea …)  I was excited. My project was going to happen! I waited.
He didn't show up.
Time to step up and do it myself …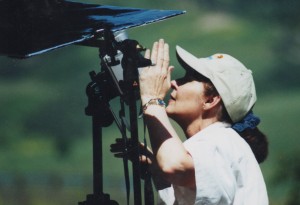 There was only one thing to do:  I had to buy a camera of my own – before Swallows Day. I researched cameras, and there just happened to be a broadcast quality digital camera that I could afford – a Sony TRV 900.  With one mouse click ("Check Out"), my production company was born.  (But I didn't quit my day job in academic administration!)
THE COMPANY NAME
It was a magical day at Trabuco Creek filming the swallows who had returned to their home in the Capistrano Valley. They were courting and swooping over the creek and grasslands – free and happy – and the name popped in.
It had to be "Swallow Creek Productions!"
THE LOGO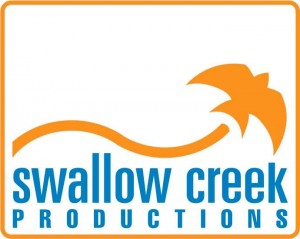 Chris Postuma, master of graphic design, created the logo that perfectly captures the graceful flight of the swallows over a creek. The swallow was inspired by an ancient Hopi image. Here's a link to Chris' site: christopherposthuma.com
THE LEARNING CURVE
Apple Computer had just released the first version of its professional video editing software, Final Cut Pro, and I was one of the first on my block to get a copy. One thing I know for sure –  
Always find the best teachers
And I was fortunate to find the very best teacher of all things digital:  Josh Mellicker – dvcreators.net.  I was one of the first to take Josh's Final Cut Pro editing class at the American Film Institute – one of the first classes in the county. Through the years, I took just about every class DV Creators has offered (DV Boot Camp, Final Cut Pro, Advanced Final Cut Pro, Motion Graphics, DVD Studio Pro, etc., etc.) Just exactly what I needed at exactly the right time!  At some point, Josh shared teaching with scary-smart Larry Jordan – larryjordan.biz.  What an incredible teacher! Those early DV days were exciting times.  Finally video production technology was affordable and anyone could tell a story using the most powerful medium on the planet.  Storytelling was not just for the big studios and production company anymore.  We actually called ourselves "DV Revolutionaries."  And we were.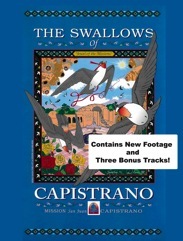 I also recruited the help of a friend, Bill Baker, who knew his way around cameras and equipment, and had a real talent for cinematography and writing.  He also understood the aesthetics of editing and the difference between A rolls and B rolls. (What a revelation that was to me!) So, armed with a new camera, some editing skills, and the status of a revolutionary, I finished my first project, "The Swallows of Capistrano," intending to make a difference. Exciting times!
THE ADVENTURE
Isn't it great how one thing leads to another?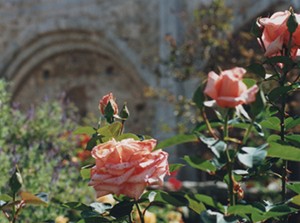 The Mission San Juan Capistrano administration liked "The Swallows of Capistrano" so much that they hired me to produce lots of documentary projects for them through the years – The Great Stone Church, The Mission Blooms Again, Russian Heritage Day, Pirates at the Mission, Christmas at the Mission, and many more.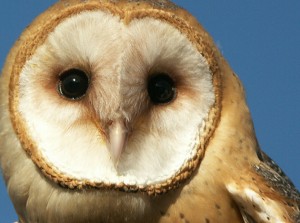 Wildlife rehabbers are my heroes, and I wanted to help the Orange County Bird of Prey Center.  Scott Weldy, DVM, does amazing work with orphaned and injured birds of prey. I produced "Second Chances" as a fundraising video for the center, and it won several awards. And what a thrill to be at the releases when the birds are given their second chance at life. Meanwhile, in 2001, a crisis was taking place on Catalina Island – the native Catalina Island foxes were dying from an unknown cause and faced extinction. Ninety percent of the foxes perished. The Santa Catalina Island Conservancy was deeply concerned and committed to saving the foxes. They discovered that canine distemper brought to the island from the mainland by an infected dog had caused the foxes' deaths. The Conservancy wanted to raise awareness of the problem and wanted to document their efforts to save the foxes. Dave Garcelon's organization, The Institute for Wildlife Studies, took the lead in the captive breeding project.
My dream came true. I was making a difference for a species facing extinction.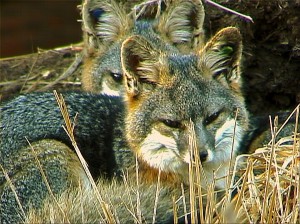 The fox project was completed in 2002 ("Tracks in the Sand:  Saving the Catalina Island Fox") and won several awards in both environmental and fundraising categories.  How wonderful that the Island Fox never made it to the endangered list!  And the fox population is still recovering and growing!   Being in the wild interior of Catalina Island in the breeding pens – where it was just me and the foxes – it was so quiet that I could hear the insect sounds, and the sounds of the ravens' wing beats. I could hear them before I saw them. NOT like in busy Orange County at all! At that moment, I made another wish …
I want to live in a place where I can hear the ravens' wing beats
It didn't take long before that dream came true and I moved from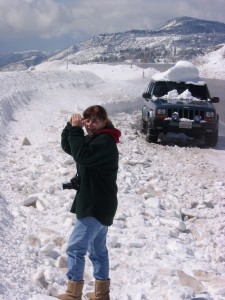 Orange County to Lake Arrowhead – a place where you can hear the ravens' wing beats before you see them – just like on the island. I quickly discovered Wildhaven Ranch, a wildlife rehabilitation facility, and completed some projects and PSAs for them. And other projects came along on the hill – for the Lake Arrowhead Chamber of Commerce, PSAs for Wildhaven Ranch and LOTS of 30-second commercials for Charter Cable.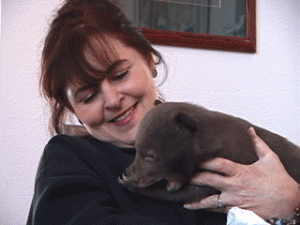 I loved working with Wildhaven Ranch and I did quite a few projects for them. My favorite was the "Baby Bear" PSA to raise funds to care for 2 orphaned black bears. I got to meet the stars!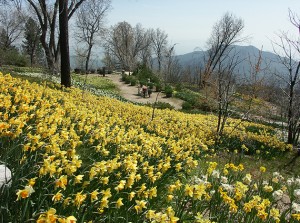 I met some amazing people – Mr. and Mrs. Bauer in Running Springs – who had devoted decades to creating their world-famous Daffodil Garden. In the spring, they opened their garden to the public.  They saw my work and selected me to document their garden in 2005. What an honor!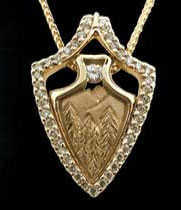 My FAVORITE artist in Lake Arrowhead is Craig Aaron – a custom jewelry designer who works using the lost wax method. He wanted a documentary of the creation process – from original sketch to finished product – and chose me to document his work. You can see more on Craig D. Aaron. This project expanded to a full product showcase that he plays in his studio in Lake Arrowhead Village, and can send to clients. What a great experience!
My bliss is being in nature with my camera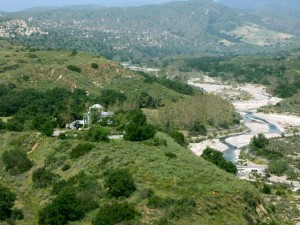 Then the Caspers Wilderness Park project came along. The park needed an interpretive video for their Nature Center. All alone with 8,000 beautiful acres to explore and document.  How cool is that! And the project won several Telly awards. Icing on the cake.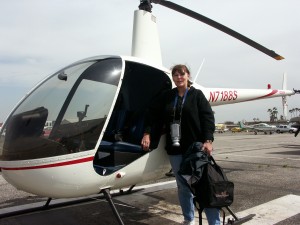 At the same time, my friend Lee Waian (former Director of Environmental Studies at Saddleback College) wanted to document the state of the creeks with the goal of eventual reintroduction of Steelhead Trout to their native creeks – San Juan Creek and Trabuco Creek. This led to my first helicopter shoot. The volunteer pilot's day job was working on a Bruce Willis movie and he was thoughtful enough to remove the door for me – just like the Hollywood guys do it. Yikes!
Then another thought …
I want to live in a place in the mountains where I can walk to the Post Office and hear the ravens' wing beats
The universe was listening again and I was called to Idyllwild. Perfect! I even have ravens in my yard!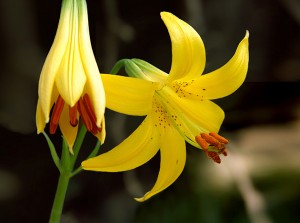 I moved to town just as the first Lemon Lily Festival was being organized. It fit my mission perfectly – honoring the wild things – and the story of the Lemon Lilies was compelling. Along with Doug Yagaloff's support and encouragement, I created LOTS of fun things! The Lemon Lily Kids graphic for the t-shirts, the Adventure Guide with Julie Johnson, the short Lemon Lily film for the first International Festival of Cinema, AND the book featuring Grandmother Mountain as a character. See them all on the Lemon Lilies page.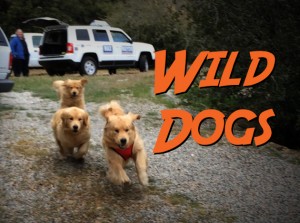 Lots of other small projects have come along in the last few years – community theater video, slideshows for celebrations of all kinds, and, most recently, a little 9-minute film for Idyllwild's Mayor Max's birthday celebration! Phyllis (Mayor Max's Mom) brought me some iPhone videos and a title, "Wild Dogs." Decided to go "Hollywood" with a full orchestral score and lots of action. The movie premiered at the Mayors' first birthday celebration. What fun!!!!
Thou shalt have a presence on the web and it shall be responsive
I love Apple. I hate it when iWeb died. Drag and drop. Simple. Apple-like. But not responsive. Now there's WordPress. And I've had to learn enough coding to get it to do pretty much what I want it to. (I don't give up easily!) I've done websites for some folks and organizations around town, including the AMAZING artist, Joan Leal Carter and the AMAZING desert harpist, Erica Powell Fleischmann. You can see some sites I've done on the Websites page.
Once a teacher, always a teacher
I've been developing curriculum material since the dinosaurs ruled the earth, and love to write for children. If you want to know more, check out the Books page.
Who knows what's next?!?

Life is good!
One more thing …
I changed my name to Avianna to honor my connection to birds and other Wild Things. I share my life with a flock of cage-free parrots (although they do have their own room). Rita, the Macaw, is the biggest. My son and I hand fed her from day 1. She's a sweetheart! For many years I had a houseful of parrots looking for new homes. Love birds. And dogs. And all the Wild Things.