Books
Dreams Come True – Idyllwild's Lemon Lilies Come Home
Sitting on my deck one morning, a story about Grandmother Mountain and her beloved Lemon Lilies came to me. I used my photos to illustrate the story, and it was awesome to be in the energy of Grandmother Mountain!
The book is available through Amazon.com and through CreateSpace. Click on the cover to go to CreateSpace for more information about the book.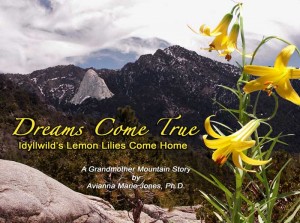 Science of Mind for Kids
In 2012, Science of Mind Minister, Rev. Doug Yagaloff, envisioned a curriculum for children that would teach Science of Mind principles in an entertaining way. We had worked together before as the Lemon Lily Festival was launched in our community.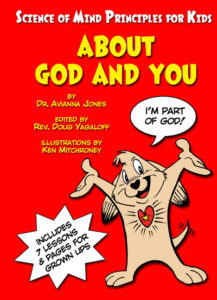 He approached me to help to create a curriculum designed for use in Science of Mind Sunday Schools, home schools, and by families at home. The development of the material was a labor of love for both of us.
The curriculum was launched at Asilomar in the summer of 2012, and "pilot tested" in 2013.
Sadly, Rev. Doug made his transition to spirit in 2013, and I thought that the project had ended.
Then in summer 2016, I heard a message during meditation that urged me to revise and distribute our project.  To honor Rev. Doug's vision of sharing this information with Science of Mind and New Thought families, a free pdf version of our book is available at scienceofmindprinciplesforkids.com, or at somforkids.com, for short.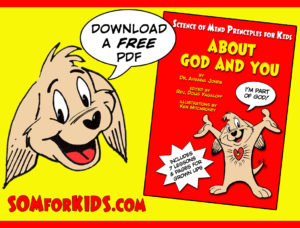 Print
In addition to designing all the titles in my video work, I do all the graphic work in laying out books and other print material (brochures, business cards, banners, posters, mugs, t-shirts, tote bags, etc.)
I also created a logo for Forest Folk, a senior group in town.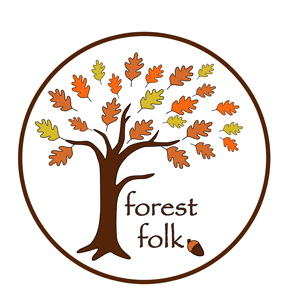 I liked the Idyllwild image I created for the Grandmother Mountain book so much that I put it on tote bags and mugs.