When I moved to Idyllwild in 2010, the community was uniting around the environmental cause of restoring Idyllwild's Lemon Lilies.
Of course, I wanted to be involved!
Lemon Lily Kids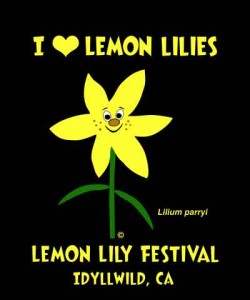 How to make the Lemon Lily interesting to kids? Try a cartoon version! I started with a photo of a Lemon Lily and traced the petals for accuracy. Love this little guy!
Lemon Lily Adventure Guide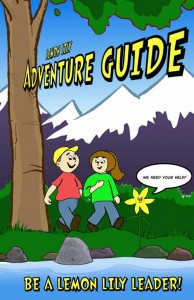 Julie Johnson had a great idea – Create a Lemon Lily Leader program for kids! We worked together to create the Lemon Lily Adventure Guide that was distributed through the Nature Center. Lots of fun for kids!
Click to view and download the pdf: Lemon Lily Adventure Guide
Lemon Lily Short Film
Of course, I had to make a video! And it happened to be at the time when the community was beginning a film festival …
I put together my favorite photos of Lemon Lilies and put together a 3-minute short film on the restoration of Idyllwild's native Lemon Lily. This short film was selected an an official entry in the first Idyllwild International Festival of Cinema in 2011. Yay!
THE STORY – The Lemon Lily is a wildflower that grows only in a few mountain locations on the planet, and it almost disappeared in Idyllwild in the early 1900s due to the "bulb hunters" of the time. The few lilies that remained were primarily in remote locations.
Due to the efforts of a few lemon lily lovers, the descendants of the Idyllwild's Lemon Lilies were located, purchased through community donations, and restored to their creekside homes.
To celebrate the restoration efforts, the Idylllwild community celebrates the Lemon Lily Festival each July.
Dreams Come True – Idyllwild's Lemon Lilies Come Home
Sitting on my deck one morning, a story about Grandmother Mountain and her beloved Lemon Lilies came to me. I used my photos to illustrate the story, and it was awesome to be in the energy of Grandmother Mountain!
The book is available through Amazon.com and through CreateSpace. Click here or on the cover to go to CreateSpace for more information about the book.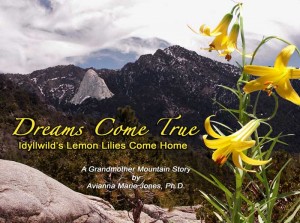 Huell Howser's Visit
Huell Howser visited Idyllwild in 2010 and produced a "Visiting with Huell Howser" episode about the Lemon Lily Festival.
With his permission, I recut the broadcast to a little 2.5 minute feature for the Lemon Lily Festival Committee. What fun!